This delicious leftover crab boil and shrimp gumbo is full of crab meat and shrimp! This recipe is a true Cajun dish with all the traditional flavors of a gumbo but made healthier!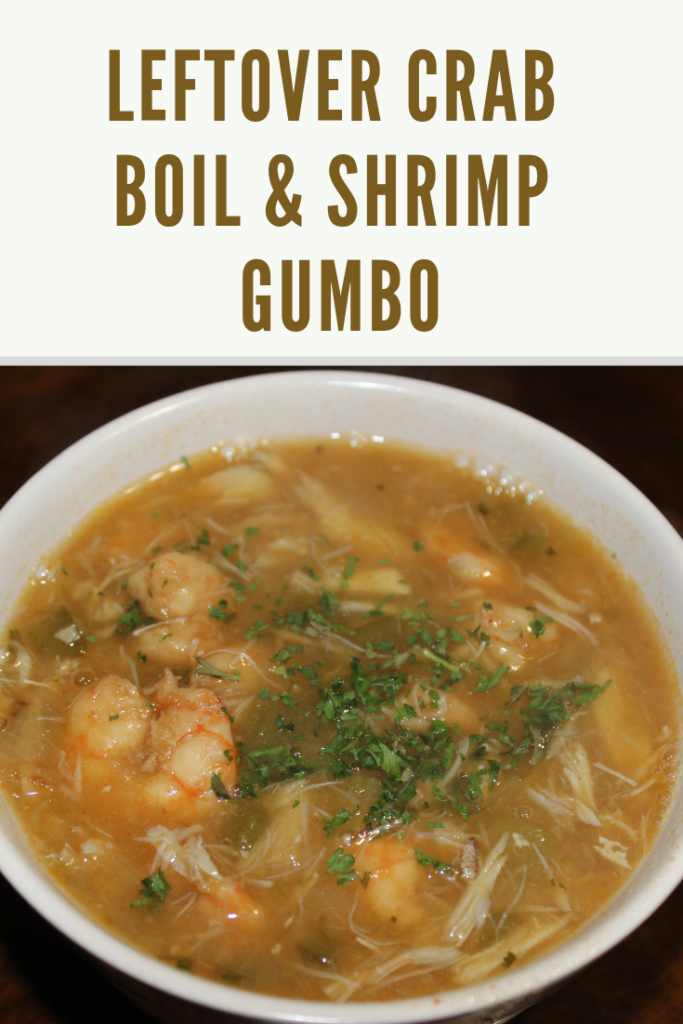 Have you ever had a lot of leftover food from a crab boil or shrimp boil? Maybe no one touched the vegetables, except for the potatoes. Lord knows the sausage goes quick. So what can you do with all those extras besides throwing them away? Make a leftover crab boil and shrimp gumbo, of course!
The other weekend we had a crab boil, as we usually do once a month. And because we always get too many crabs, that means I have to use them for something.
And no one ever eats the onions, celery, and all of the garlic that you've added to your boil, which means you could throw them away or find a way to use them. That's what this leftover crab boil and shrimp gumbo recipe does!
**NOTE** – If you didn't have a crab boil, you can use fresh onions, celery, and garlic! Just add 1 capful of crab boil to your gumbo to give it the same flavor.
Now, if you know me, you know that I do not cook a regular gumbo because it is really high in fat. It is also higher in calories! That means that I don't start with a traditional roux. I use a browned flour roux that you have to add last. This saves a lot of calories from fat too!
MAKING THE GUMBO
To make this delicious leftover crab boil and shrimp gumbo, you need to chop up your onions, celery, bell pepper, and garlic. For me, I take all of those items and throw them in my Ninja Food Processor for a few seconds, which leaves me with perfectly chopped vegetables! And no crying eyes!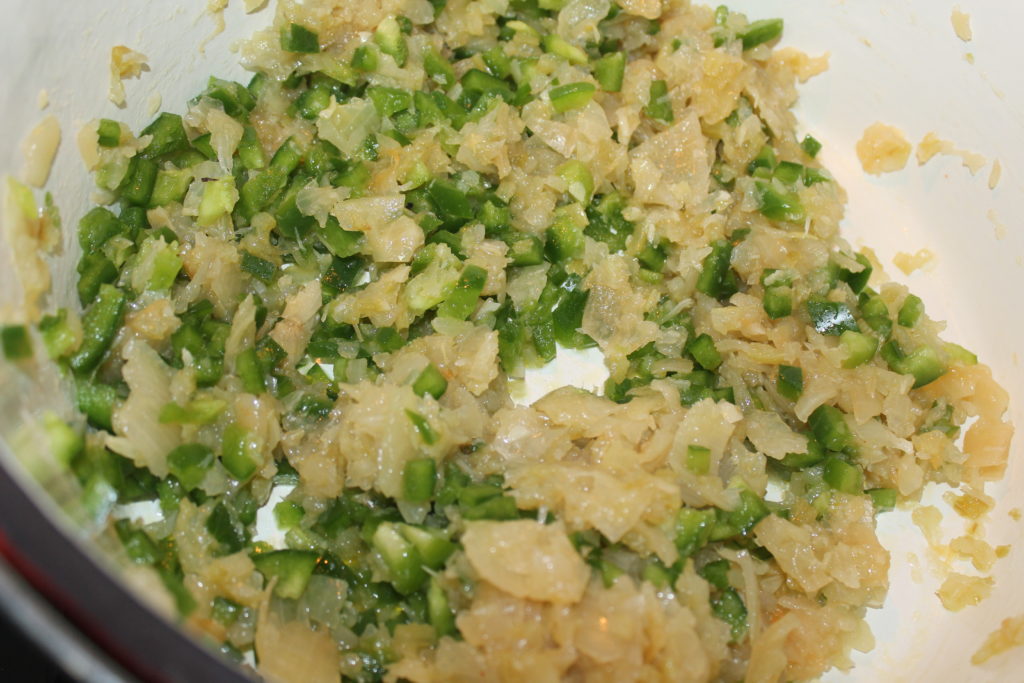 So this is what it should look like when you start browning your onions for your gumbo. Now, if you are using fresh vegetables, it won't be this dark. You'll have regular colored veggies.
Here's the time consuming part. I've tried browning the holy trinity quicker, but it never happens. You need 2 Tbsp olive oil and you'll be spending at least the next 30-40 minutes browning these vegetables on a medium heat.
If you find that your vegetables are burning too much to the bottom of your pot, you'll need to add a little bit of water to help the vegetables not stick to the bottom.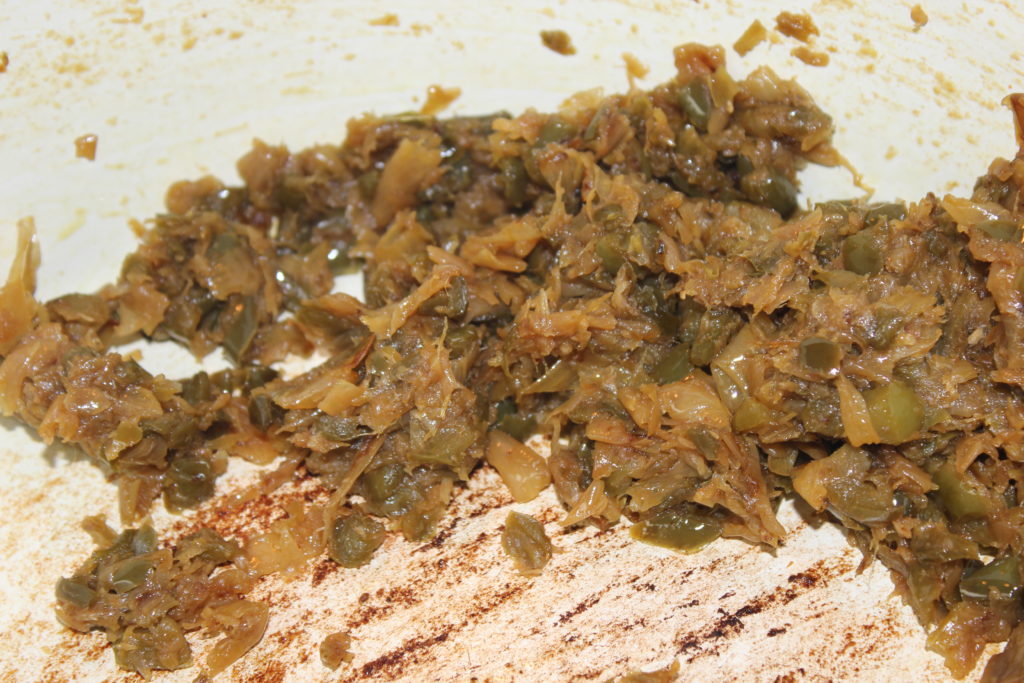 This is the color you want your onions, celery, bell peppers, and garlic to be. It is about 30-40 minutes for this color to appear. The reason this step is the most important is because if you don't make your vegetables this color, your leftover crab boil and shrimp gumbo is not going to be dark enough.
Now you add your shrimp. If you had shrimp in your boil, no need to add them now. If you have raw shrimp, add your shrimp now and cook until pink.
Once the shrimp is fully cooked, add in the seafood stock, water, seasonings, and crab meat. If you have shrimp that is already cooked, you can add that now.
You want to cook your delicious leftover crab boil and shrimp gumbo for an hour from this point on a medium-high heat.
Here's where the fun part comes in! So a traditional gumbo starts with a roux made of equal parts fat and flour. You have to cook it on medium-low heat for at least an hour until it reaches a dark brown color.
For this recipe you want to use a browned flour roux.
MAKING A BROWNED FLOUR ROUX
For this crab boil and shrimp gumbo recipe, you need to start with making the browned flour. You can do this the day of or if you've made it before, you may have some stored in your fridge.
Preheat your oven to 350 degrees F. Then you take 3-4 cups of flour on a baking sheet and evenly spread the flour.
Place the baking sheet in the oven and bake for 15 minute intervals until it reaches a light brown color. Every 15 minutes, scrape the pan and push the flour on the outside towards the middle of the pan. This helps the flour brown evenly.
Once your flour is done, you want to sift the flour so that your crab boil and shrimp gumbo doesn't have lumps of flour in it.
Store the flour in an airtight container in fridge for up to 6 months (if it lasts that long!)
MIXING IN THE BROWNED FLOUR
Now that you're flour is ready to be mixed and added to your leftover crab boil and shrimp gumbo!
For this recipe you need 1/2 cup of browned flour and 1 cup of water. Mix it together and make a pour-able paste and add it to your gumbo!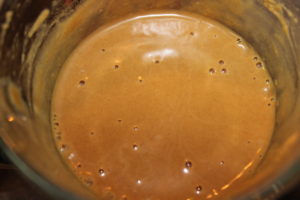 TIME TO EAT!
Now that everything is added to your gumbo, it's time to let it cook another 30 minutes! Serve over some rice and enjoy your yummy leftover crab boil and shrimp gumbo!