Fish tacos are a staple at practically every restaurant and are so delicious and healthy for you too! Now you can make these delicious blackened fish tacos at home! This taco recipe uses blackened fish topped with pico de gallo and broccoli slaw.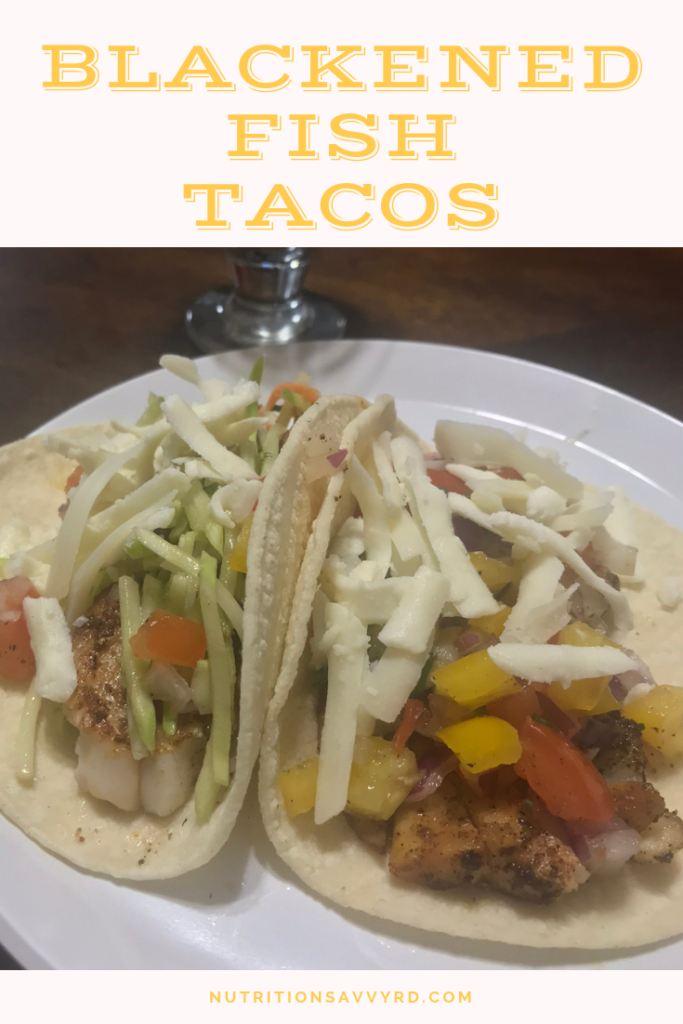 The pico de gallo is homemade and so easy to make, plus it makes a huge container! To make the broccoli slaw, you need a bag of broccoli slaw, lime juice, and Italian dressing!
All of this can be done in 30 minutes for a quick weeknight dinner with leftovers for the next day's lunch!
NOTE: Do not use salmon as your fish. You can use practically any other fish and be fine.
Recipe for the blackened fish:
3 tbsp olive oil
1 tsp garlic powder
1 tsp onion powder
1/2 tbsp Seafood Magic seasoning
1 tsp salt
1/2 tsp black pepper
Instructions:
1. Heat the olive in a pan over medium-high heat. Once the oil is heated through, add in all of the seasonings. Stir to combine.
2. Add your fish into the pan and cook on each side for 2 minutes.
3. Place fish in a small corn tortilla and top with broccolli slaw and pico de gallo and low fat mozzarella cheese.
Try it out and let me know what you think!
Add the bag of broccoli slaw, lime juice, and light Italian dressing into a tubberware. Cover with a lid and shake to mix. Keep refrigerated until ready to serve.
Dice 1/2 purple onion, 2 tomatoes, 1 yellow bell pepper, and 1 cup of cilantro.

Add in salt, pepper, and lime juice. Stir to combine.

Place in a Tupperware. Cover and store in fridge until fish is ready.
Add the olive oil to a pan and heat over medium-high heat.

Add in the seasonings and stir to combine. Let heat through for another 2 minutes.

Place the fish fillets directly on the seasonings mix in the pan.

Cook for 2 minutes on each side.

Place on a corn tortilla and top with pico de gallo or broccoli slaw and top with low fat mozzarella cheese.