This low-calorie version of Starbuck's White Chocolate Mocha will be your go-to coffee every morning!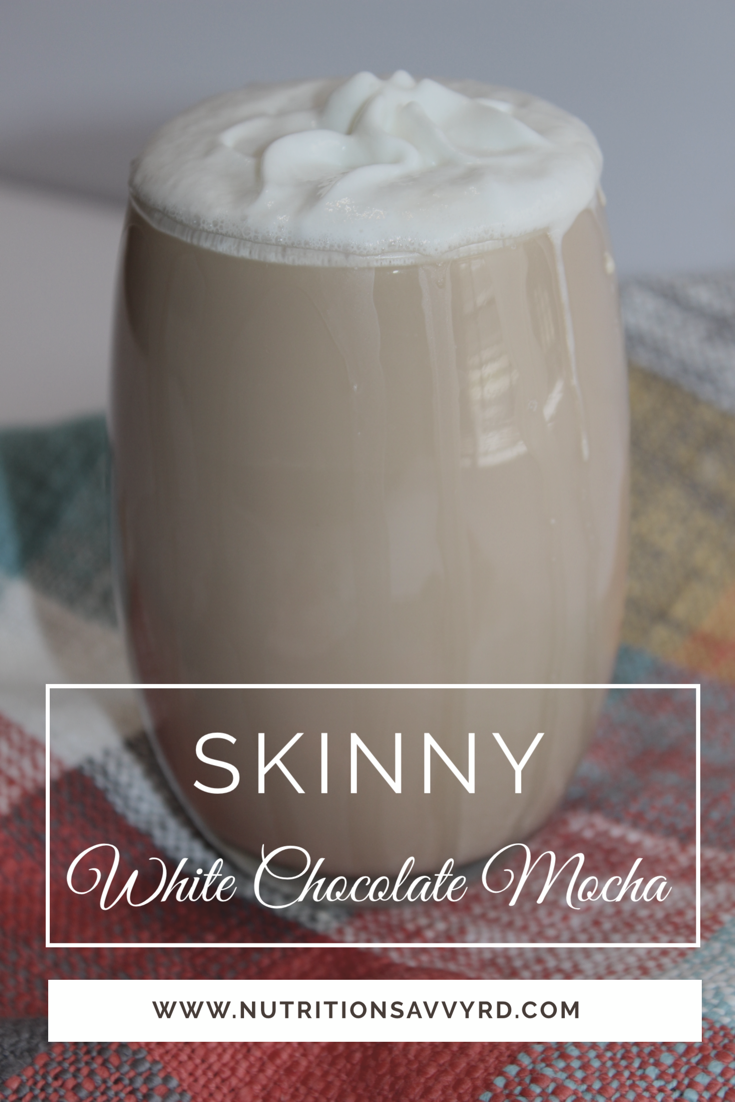 Ya'll, a hot white chocolate mocha is my favorite drink to pick-me-up in the morning. I'm normally not a white chocolate lover, but in coffee it seems to be the perfect combination. Unfortunately, Starbucks is almost $6 for a large coffee and the line takes at least 20-30 minutes to get through every morning.
Because I am cheap and don't have time to wait in a long line, I've perfected a low calorie version of a hot white chocolate mocha. This coffee takes around 3 minutes to make this, which is perfect for those rushed mornings! No more waiting in the line at Starbucks!
Starbuck's white chocolate mocha is super high in calories!  Even the "skinny" version which is made with skim milk is 470 calories for a large. That's still too high to drink with breakfast! That's more calories than breakfast should be. Say goodbye to eating lunch everyday if you drink this drink every morning!
On top of the high calories, it'll run you about $6 for a venti white chocolate mocha. Let me put that in perspective for some of you. If you drink a large latte every weekday – that is $30 a week, $120 a month, or $1,440 in a year simply on a large coffee. That price is too steep for me so I make my own version at home and now you can too!
The good news is that you'll save yourself lots of time, calories, and money! What could be better than that?!
This recipe is super easy to make and quick. You just put your cup under the Keurig and brew the coffee. I highly suggest using Starbucks Blonde Roast coffee. It's not as strong flavored, but if you really enjoy stronger coffees you could use the medium or dark roast, but to make it taste like a latte, you'll have to add more milk and Stevia. It's up to you, but I find the Blonde Roast works the best.
Since I orginally posted this, Starbuck's created a double shot blonde roast and it is now my go-to coffee for making my white chocolate mocha.
You can find the white chocolate sauce at your local grocery store as well. It is on the same aisle as the coffee.

Brew the K-cup according to instructions.

Add in the Stevia, white chocolate sauce, and milk.

(Optional) Top with fat free whipped cream.